Metro Atlanta has a number of neighborhoods listed as a historic districts and registered on the National Register of Historic Places.   Ansley Park is one of these and certainly one of the most lovely.  This distinctive historic  neighborhood lies just east of midtown Atlanta and consists of  single-family homes and apartments in an eclectic mix of architectural styles on winding roads through the neighborhood that give it a park like feel as the streetscape meets the landscape of the homes.  With most of the homes constructed in the early 20th century; house styles range from Colonial to Contemporary; Neo-Classical to Federal; and throw in a little Italian Renaissance, and Craftsman as well.  The former Georgia governor's mansion is located in the Ansley Park neighborhood.


The Ansley Park Golf Club borders the neighborhood on Settindown Creek and provides members not only a golf course but also tennis and swimming along with a variety of dining and social opportunities.  All of the homes in Ansley Park are located less than 10-minute walk from the neighborhood's two parks, Winn Park and McClatchy Park, providing residents a natural setting for recreation and a tranquil place to relax.  The Ansley Park Civic Association offers tours of the historic homes in the area.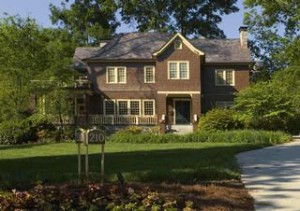 The real estate market in Ansley Park is one of the strongest in the metropolitan area.  Prospective homeowners interested in relocating to this distinctive neighborhood can explore properties ranging from condominiums and townhouses, with listings starting at $65,000, to multimillion-dollar historic homes to new custom designed and built homes that fit the character of the neighborhood.  Those who relocate to this neighborhood can feel assured the value of their home will be maintained just as the natural distinction of Ansley Park has lasted during the past century.
Nearby neighborhoods: